While you might not have heard of Brissco Equipment Ltd, you will have undoubtedly seen its products. Established over 70 years ago, the Bristol-based company has grown to become one of the UK's leading screen printing companies. Following a merger with a local plastics distribution business in 2011 and a management buy-out in 2017, the growing company is now investing in new equipment throughout its factory, including a new Striebig Control 4224 vertical panel saw from woodworking machinery supplier, TM Machinery.
"We had our old vertical panel saw for over 30 years and it had become an integral part of our business," says Phil Pope, Managing Director of Brissco Equipment Ltd. "But, in recent years, our business model has changed. Not only do we cut rigid plastics for our signage work, since our company merger, we now offer a bespoke plastic fabricating service too, creating plastic components for equipment manufacturers in the UK. This means we need to cut acrylic, polycarbonate, PVC, foam PVC, ABS and aluminium composite in boards as big as 2×3 metres wide and 1-10mm thick quickly and efficiently. Our old machine could no longer keep up."
"I've been in the industry for over 30 years and I know Striebig well. So, when it became clear that our old wallsaw needed to be changed, TM Machinery was my first port of call. I knew exactly what we needed our replacement saw to do and I knew Striebig would be able to deliver on our requirements," says Phil.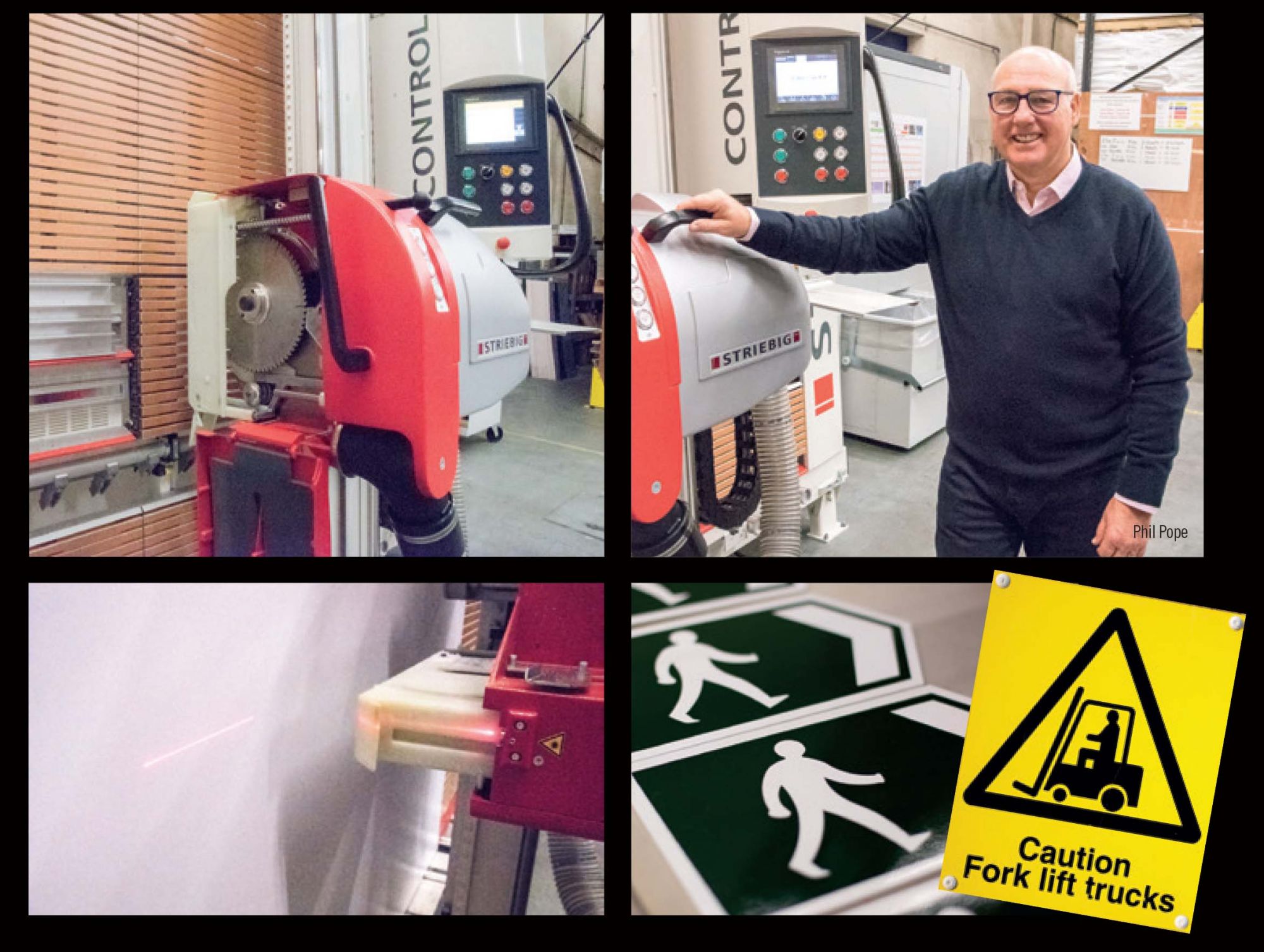 A WALL SAW WITH EXCEPTIONAL BUILD QUALITY
"First and foremost, it needed to be built to last and offer clean, accurate cuts on a range of materials. It also needed to make the cutting panels to size less of a manual process, eliminating potential operator error and material waste – and it needed to be smaller than our existing saw, so we could make the most of the floor space we had available."
The Striebig Control seemed like a great fit and, when an ex-demonstration model from TM Machinery's Leicester-based showroom became available, Phil admits he couldn't refuse. "Not only was it cheaper than buying a brand new saw, it came with a wealth of automated features and could be delivered at a time that suited us."
The Control's rigid, self-supporting frame features full length central supports, as well as internal small piece supports, making it ideal for use on both heavy and lightweight plastic sheets. It also provided the robust design and build quality Phil was looking for. Its fully-automated cut cycle and easy-to-operate touch control screen simplified the cutting process and offered Phil the consistently accurate cuts he wanted and reduced manual handling. Phil explains, "Unlike our old sawing machine that relied on the operator to dictate the cutting speed, the Striebig's feed speed can be adjusted depending on the material, size and thickness of the panel. This allows the operator to concentrate on loading and sizing the material and ensuring a yield on every panel without having to consider other factors."
The saw's smaller footprint was also an advantage. "At one time, a large part of our business involved distributing plastic sheets to the trade," says Phil. "Because of this, we bought our old panel saw to cut multi-wall polycarbonate and large panels up to six metres long. We've since tailored our business model and now only manufacture plastic items. This sees us work predominantly with 3×2 metre and 8×4 feet sheets." The Striebig Control measures 5153 x 3035mm and has a cutting range of 3100 x 2240mm, offering great scope, and it fits neatly into a compact space.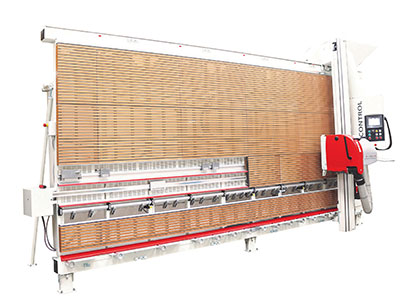 IMPRESSIVE PANEL SAW AND DUST EXTRACTION DUO
Phil teamed the new saw with an AL-KO Power Unit 160 from TM Machinery. "The extraction on our old saw wasn't very good. We wanted an efficient alternative that not only saved us cleaning time but also made the floor a cleaner environment to work in." The free-standing AL-KO extraction unit offers optimal filter cleaning and requires the least amount of compressed air possible. It also guarantees 100% air recirculation without loss of temperature and it is housed in a soundproof casing to reduce noise levels when in use. Phil says, "It's the ideal partner for the Striebig. It's quick to empty and easy to clean thanks to its removable dust compartment and it was really simple to install. The engineers calibrated the saw and the extraction unit at the same time and they've been working well together ever since. The whole process has been faultless.
"For us, the investment in a new vertical panel saw hasn't been about increasing production or de-skilling our workforce," Phil concludes. "It's been about delivering high quality products to our customers time and again. The Striebig has a key part to play in this and I'm pleased to say it's doing a fantastic job. The whole sales process was hassle free and the installation of both the saw and the extraction unit was quick and easy. The saw is a great fit for our business, and knowing that TM Machinery's sales team and engineers know their portfolio inside out makes us confident in both the machine's capabilities and the service we can expect to receive from TM Machinery in the future."